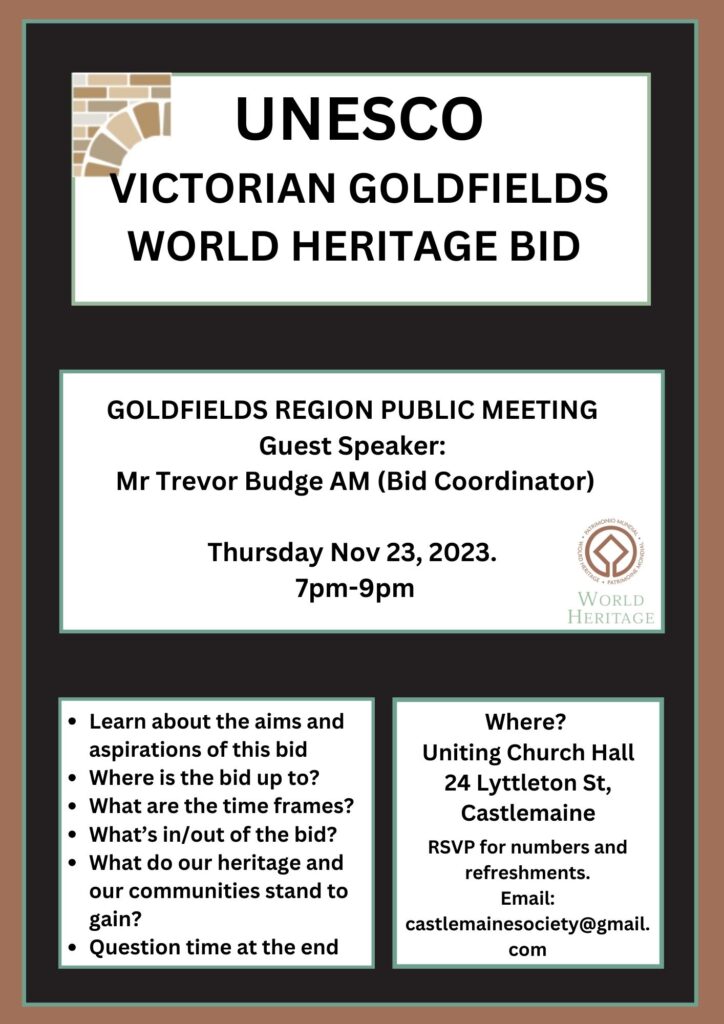 CASSOC is excited by the potential for our region that can flow with a successful World Heritage Listing for our Victorian Goldfields.
INVITATION
CASSOC is thrilled to announce that Mr Trevor Budge AM – Bid Coordinator, Senior Strategic Planner, and La Trobe University academic, will give a presentation about the Bid.
Everyone is invited to find out more and to ask questions.
Thursday 23rd November 7pm-9pm, Uniting Church Hall, 24 Lyttleton St Castlemaine.
RSVP (for refreshments/stetup logistics)  email:   castlemainesociety@gmail.com
WHY HAVE WE CALLED A PUBLIC MEETING?
CASSOC perceives that our community lacks understanding about the bid, and its great potential. So we asked Trevor Budge to present the Bid vision to us all.
How will it work? What will be in it? How will it bring economic gain to our communities? What are the time frames? Can we, the local community, help?
 Why the Goldfields?
Our Goldfields are unparalleled for their intactness, for their extensiveness and for how they illustrate the global goldrush phenomenon that marked the second half of the nineteenth century. To be included on the World Heritage List the site must be deemed of Outstanding Universal Value (OUV).
A successful listing holds great potential for employment and economic development for our region. It also promises an extra level of consideration for our remarkable heritage, when planning decisions are taken. CASSOC supports initiatives which support our natural heritage of topography, geology, large old native trees, First Nations cultural sites, our built heritage and our goldrush sites.